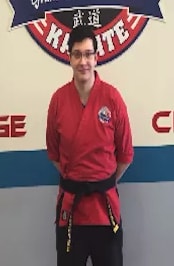 Gavin Thomas
PMA Experience:
8 years
Certifications:
2nd Degree Black Belt
Personal Interests:
Graphic design and cooking
Bio:
I was born in Indiana and moved to Pennsylvania when I was eight years old. I started taking martial arts classes when I was ten, and continued for eight years. I received my 1st degree black belt at fourteen, and my 2nd degree at seventeen. I started teaching classes at eighteen before leaving for college. I have returned and am eager to continue teaching and furthering my own training.
How Martial Arts effected my life:
Before I started martial arts I was very shy. I was always reluctant to try new things and as a result I had pretty low self-confidence. Martial arts gave me a way to grow and develop, and showed me that with some hard work I could achieve whatever I wanted. I have become much more confident as a result of my martial arts experience.
My favorites:
Food: Chili
Color: Green
Animal: Polar Bear
Number: 9