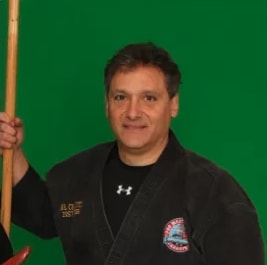 Richard Chamovitz
PMA Experience:
Mr. Chamovitz began his martial arts training at the age of 46, when he enrolled, along with his son, at Master Samane's dojo. Their Tang Soo Do training was interrupted when the family moved to Tokyo, Japan. Since returning to the United States, Mr. Chamovitz renewed his son's and his relationship with Pro Martial Arts in Berwyn, where he is currently pursuing Second Dan and teaching.
Certifications:
Black belt in Aikido and a brown belt in Krav Maga
Personal Interests:
Mr. Chamovitz enjoys teaching all students, and demonstrates a particular passion for training students with disabilities at PMA.
Bio:
Mr. Chamovitz is an attorney, public speaker and life coach. He was a federal prosecutor in Washington, D.C., and opened a law practice representing people with disabilities after moving to Wayne, PA. He has been President of the Board of Directors for the Arc of Chester County and Hope Springs Equestrian Therapy. He has also served on Pennsylvania's Governor's Advisory Board for People with Disabilities, testified on special needs issues before the Pennsylvania legislature, and spoken nationally on the rights of children and adults with special needs.
How Martial Arts effected my life:
I began studying martial arts with Grandmaster Samane at the age of 46 so that my son would continue to learn karate. That was 11-1/2 years ago. For the last 4-1/2 years, I have been teaching at the PMA studio in Berwyn. Martial arts has provided a common activity for my son and I to talk about and practice together. It has also provided a forum to provide our students with the skills needed to become productive community leaders. The martial arts journey continues to improve my ability to face the fears and tensions that I encounter through living. This in turn continues to improve the clarity and intensity of intention, awareness and mindfulness with which I address life's ongoing challenges.
My favorites:
Food: Okonomiyaki
Color: Fuscia
Animal: People
Number: 0